Magnum
Michelangelo Social Media Campaign & AR Experiences

Role
Social Media Campaign & AR Experiences
Campaign
Magnum Michelangelo Digital Campaign
Media
Facebook, Instagram, AR
Magnum Michelangelo Social Media Campaign & AR Experiences
Objective
Leverage on the iconicity of the Renaissance art period, to create a remarkable digital and social launch campaign for the new "Magnum Michelangelo". An ice cream inspired by an artist who, more than any other, gave birth to timeless masterpieces.
Idea
We've engaged pleasure creators, today's Michelangelos, through a social campaign and two augmented reality experiences that explain (and exploit) how the new ice cream masterpiece came to life. A creative concept in which technology and innovative tools become the enablers of the unique encounter between taste and art.
Magnum Michelangelo Social Campaign: the taste of an immortal beauty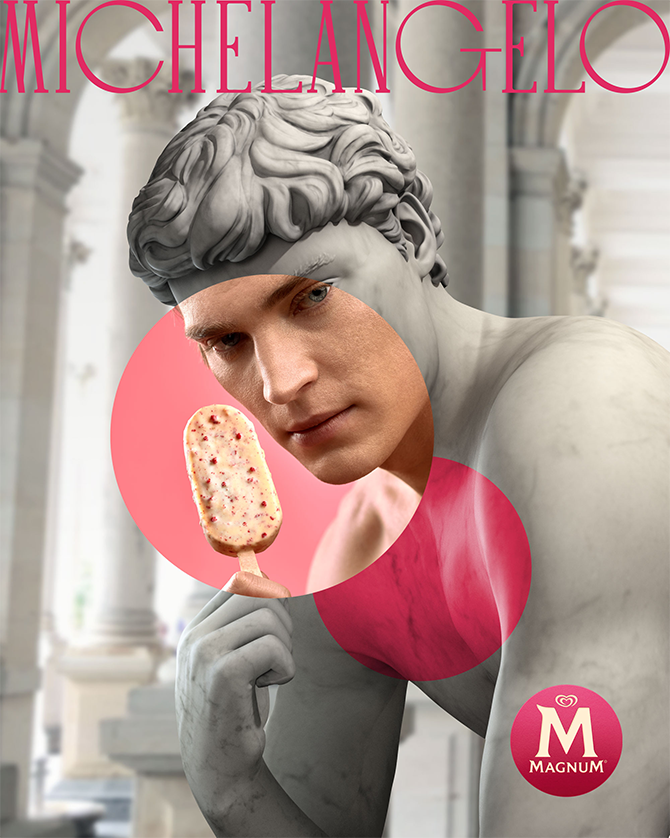 Magnum Michelangelo Statues
We've released a series of key visuals with a great aesthetic impact.
Custom 3D marble statues, shaped on the basis of faces and poses of our campaign subjects, are captured in the act of contemplate the new Magnum ice cream.
The visual identity
The circle plays a central role in the visual identity of the campaign: circular shapes, overlapping each other and blending with the visuals, symbolize and express the encounter between taste and art.
The circle recall the brand logo, of course, but as the "perfect shape", symbol of universality, brings the viewer back to a dreamlike and evocative dimension, the fulfillment of a path that once again leads to Universal Pleasure.
Magnum Michelangelo Videos
Immersive videos in which, frame after frame, the mix of Magnum Michelangelo's colors, flavors and textures evokes colors, materials and lines of Renaissance paintings and sculptures. The ice cream's ingredients become the ideal tools that Michelangelo himself would have used to create this new masterpiece of sensory pleasure.
Instagram Consumer Engagement
Augmented Reality Experiences: an immersive and "augmented" pleasure by Magnum Michelangelo
The Magnum Atelier
The first experience is accessible through display in-store materials and allows users to literally immerse themselves in the world of creativity.
Triggering a QR code, users access a virtual 3D world. Here they can admire a virtual marble portal which, although placed in the real world, once crossed opens onto a 3D simulation of a Renaissance atelier.
Through this virtual tour, users can experience, step by step, the creation of the Universal Pleasure by interacting with a series of hotspots.
Exploring this virtual setting, and searching for the artist's tools (canvases, brushes and marble blocks), users came acros
The creation
The second experience is for those who have the opportunity to interact with in-store Algida signage.
Triggering the AR experience via a QR Code, a three-dimensional and virtual version of the new ice cream materializes.
Starting with a block of marble chocolate, and then adding raspberries (as if they were color pigments), users can create their own Magnum Michelangelo.
So the new masterpiece is created, tap after tap, just like a Renaissance sculpture.
Instagram filter
While a colonnade frames users' faces, they can choose between a golden and a magenta lens, two different shades that recall the colors of the ice cream ingredients: white chocolate and raspberries.