Magnum
Magnum Pleasureland: the Magnum Metaverse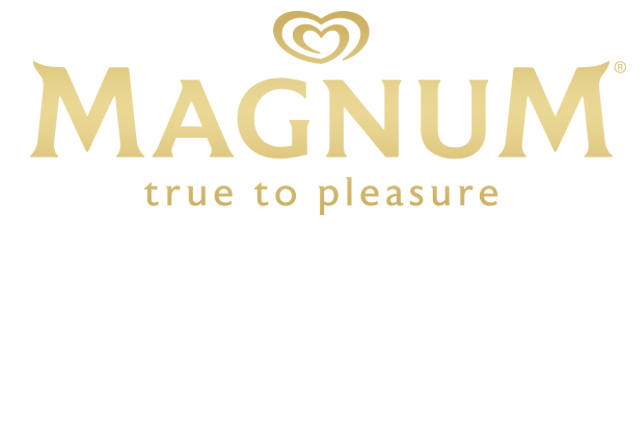 Role
Metaverse, Web3.0, Virtual Reality
Campaign
2023 Magnum Metaverse Launch
Magnum Pleasureland
Objective
Design and build a virtual platform able to launch the new Magnum 2023 products and, by positioning the brand as a reality in step with innovation and new technologies, that will be a persistent asset enriched over time, becoming a value for Magnum and its Pleasure Seekers.
Idea
Xister Reply has been supporting Magnum and pleasure seekers in their quest for true amusement for years. A boundless journey through creativity, innovation and technology that this year chose to go one step further, landing in the Metaverse, the Magnum Pleasureland.
Welcome to Pleasureland
Magnum Pleasureland is a virtual world dedicated to Magnum Ice Cream, developed on the Metaverse platform The Nemesis. Xister Reply conceived and designed a virtual environment dedicated to aesthetic and sensory pleasure where users can navigate among evocative 3D elements recalling the brand visual identity and products, such as mountains of chocolate and caramel waterfalls, while engaging in a range of different activities.
Magnum Virtual Pleasure Store
A place where virtual and real pleasure can finally meet. Indeed, from the main area, users can choose to visit the Virtual Pleasure Store, in which they can discover all the products' ingredients and buy their favorite Magnum icecream directly on the food delivery platform, Glovo.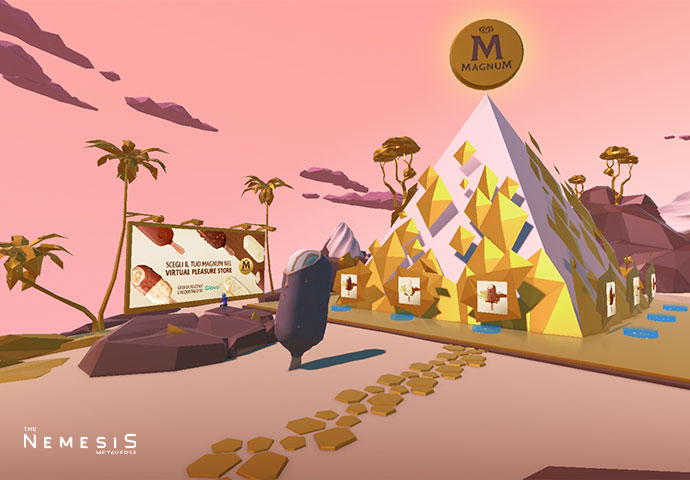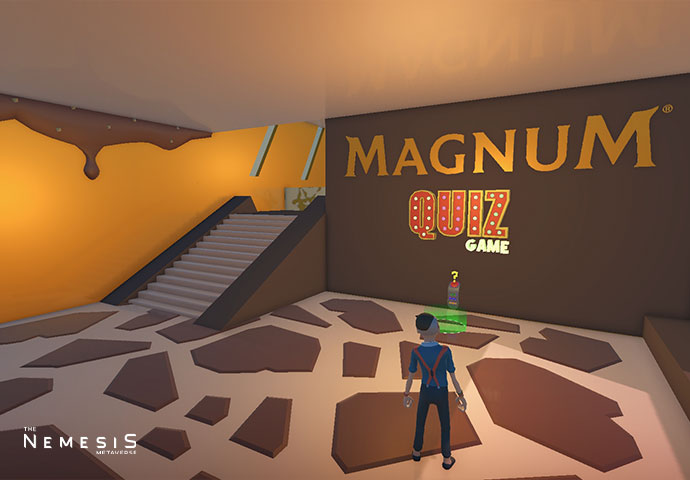 Magnum Trivia and Interactive activities
By moving within Magnum Pleasurland and exploring it, users will also have the chance to test themselves with a Magnum Trivia Quiz, discover the brand's activities in sustainability and challenge themselves in a room dedicated to some of the most addictive arcade games ever, exploiting the playfulness of the brand in one of the most famous great gaming environment, the Metaverse.
Coming soon...
But the news does not end there: navigating the space, users will find two coming soon areas, dedicated to the Magnum Nocciola Remix and the new Magnum Sunlover & Starchaser, which will be unlocked in the following weeks.
These areas will contain a series of brand new activities, game challenges and special features that will allow users to experience the metaverse to the fullest and immerse themselves in the world of the three new Magnum ice creams.